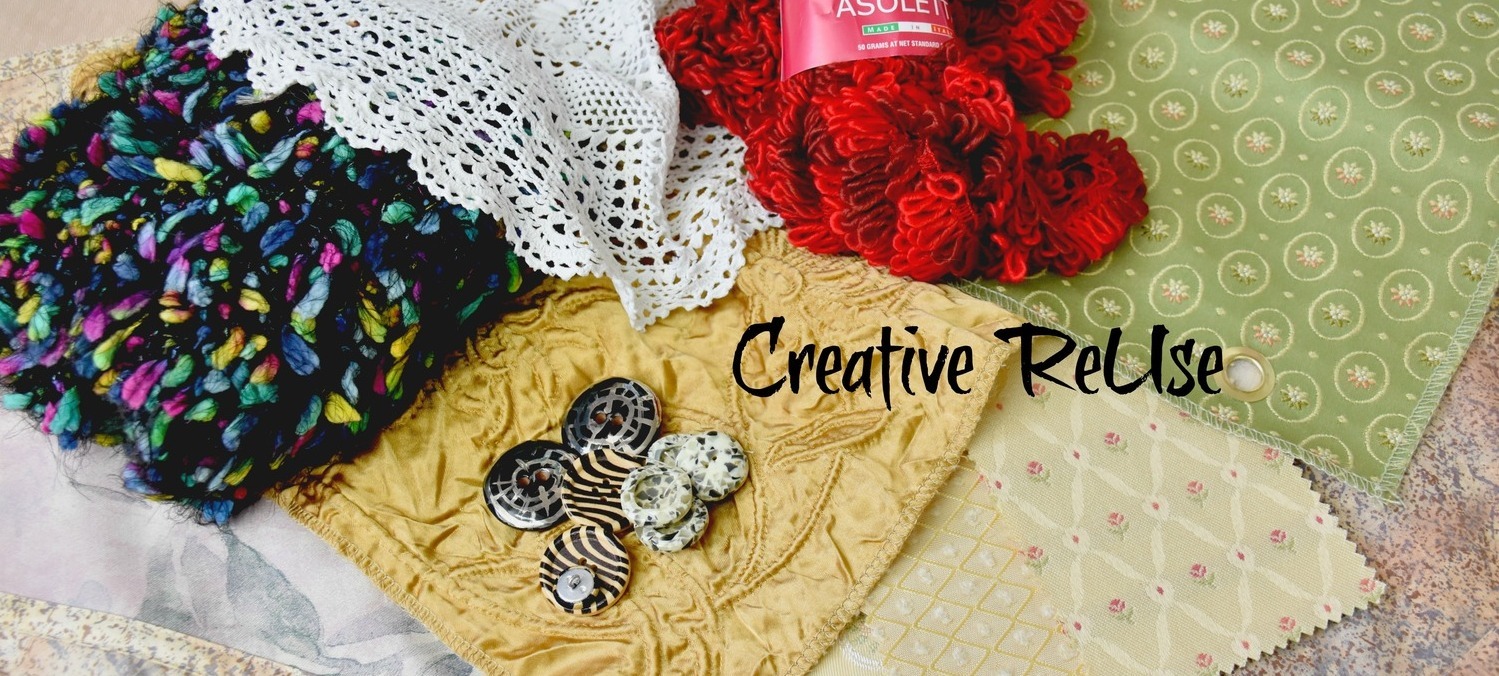 Taking up-cycling way UP. Taking materials no longer used, cutting into them and repurposing into artful garments. Especially those things lovingly made by hand and needles mostly made for home decor by family members who may not be here any more. To honour and respect the needle arts that has come down  to us and show it off just one more time
FROM BATHING SUITS TO PORTRAIT PERFECTION
FROM BATHING SUITS TO PORTRAIT PERFECTION
Shocking blooming PINK! There sat the most brilliant shade of that colour in a fabric that I had ever seen on a bolt . You almost needed sunglasses to look at it, it was so bright. My friend Diannah had dropped it off figuring I could use it somewhere in one of my creations (she picks up leftover materials from businesses all over Toronto. She uses the word looney in her email address). The fabric was stretchy -  like bathing suit stretchy. Turns out it was the remnants from costumes that a theatre group had made for a dance number. It would have made great children's swimsuits because you could have spotted a kid on a beach or in the water a mile away. But that isn't exactly my forte; and it went with NOTHING in my stash of fabrics.
However it was free , - and good quality material. I do like a challenge especially if it pertains to up-cycling. So what if I put something on top of it instead of beside it in a garment? That would mean lace. I had some of that.  I had been the happy recipient of off-cuts of Guipure Lace about 25 years ago. It had originally been cut to go into formal outfits, the type Mothers of the Bride and Groom might wear back then. So I threw the navy ones on it and bingo! Up came an image of a coat dress. I almost always have a type of client in mind if not a specific one when I start the design process and I knew exactly who would be the inspiration for this.  Lynn Johannson. She would rock this colour scheme and the idea of what I  would want to do with it.
Ideas never seem to come alone to my head. That has actually been the bane of my existence at times (like when it's one in the morning and I really need to sleep). I had been toying with commissioning  a very special portrait  to celebrate my 25th anniversary in this venture.  Who better to paint this than  Canada's own Laurie McGaw(
www.lauriemcgaw.com
)!  I  wanted it to be of Lynn.  Why?  Lynn was my first client; she had supported me in so many ways since then including The Wearable Art Show . She came up with the quotable "experience the exquisite, acquire the divine" that we use for that show. She has modelled in the fashion show for us most years. She  even started a Facebook page called the Bohemians of Bonnie Glass so clients can share the fun they experience wearing a "BG". I knew I wanted to hang a copy of this portrait in my booth at that show and any other shows I did going forward. And I loved that Lynn is so involved in helping small businesses to adopt better environmental practices.  On my new website
www.bonnieglass.com
, click on "My Heart" and you can read more under "This is Me -Green". Being respectful of Mother Nature is an important element to me and always has been.
So the two ideas were a perfect marriage. Lynn had the gloves and she brought the  hat to the ceremony. Laurie did a preliminary painting of Lynn's face in her studio in February as she loves to work some of the portrait with the subject right in front of her. Then Covid 19 hit. Lucky for us Laurie had also taken pictures and there was one we chose and she worked from  in her home.  I could not be more pleased because she caught the essence of Lynn, a true original in a timeless beautiful coat. I called it "Portrait Perfection".
Karen brought me her beloved grandmother's lambswool fur coat and asked "Would I incorporate parts of it into a new cape coat?" I don't usually do custom any more but Karen is a treat of a human being and it was obvious she loved her grandmother. I had also never worked with fur (even though I have been at this over 25 years) but there is nothing like a first time. So it was the first time I had to keep the vacuum cleaner by my sewing machine! You cannot throw enough happy colours at Karen and she is a contemporary kinda girl. She said I nailed it. And her grandmother's name? Victoria of course!
Interwoven Colaborations With Maureen Harding 2009
It was the beginning of January and I was on the homestretch finishing a swing coat for my very pregnant  friend Gina - had to keep that baby warm in there. Went upstairs to have my lunch and read my emails and there it was - Maureen Harding had passed. Oh my word! It had been some years since her and I had worked together on collaborations when we were both a part of ArtWear Network. She would take the lead on each piece made with her hand dyed and felted cloth and then I let the work speak to me as to what it should be. I had been totally inspired by what she had done! She made it so easy for me. Not just because the cloth she handed to me was amazingly unique and beautiful but she herself put my mind at ease with what I could create with it. And I needed that freedom in my head to cut into it. She was gentle, quiet, understated and a master of her craft.
I contacted her husband Rod. His nickname for her was Mo and he told me he had been amazed at how many people had written him extolling her skills and her friendliness. She had trained as an RN in the 1960's and had always considered herself a working class girl from the industrial north of England. She got into spinning first after buying a small sheep farm in BC and then later felting. Although she took some workshops in it, she was mostly self taught. As a self taught artist myself, I knew what that meant - a lot of stuff in the garbage! In the year 2000 she started her business called DreamSpin Fibres suppling felting and spinning materials. She mentored others and helped them launch their artistic careers in felting. As with so many other great artists he told me she suffered greatly from self-doubt. In the end it was Idiopathic Pulmonary Fibrosis that took her.
So after reading that initial email, I went back into my studio to finish the coat and it hit me. The whole inspiration for the colours, design etc. had come from a felted scarf of Maureen's. It had been chosen because it was going to be perfect for my fiend Gina's colouring so I had cut into it and incorporated it in the coat. I teared up. The coat was being made to cover a new life coming and it felt like a blessing bestowed on it by another life that had left our earth.  I give each of my original coats it's own title so I called it "Maureen's blessing". She would have liked that.