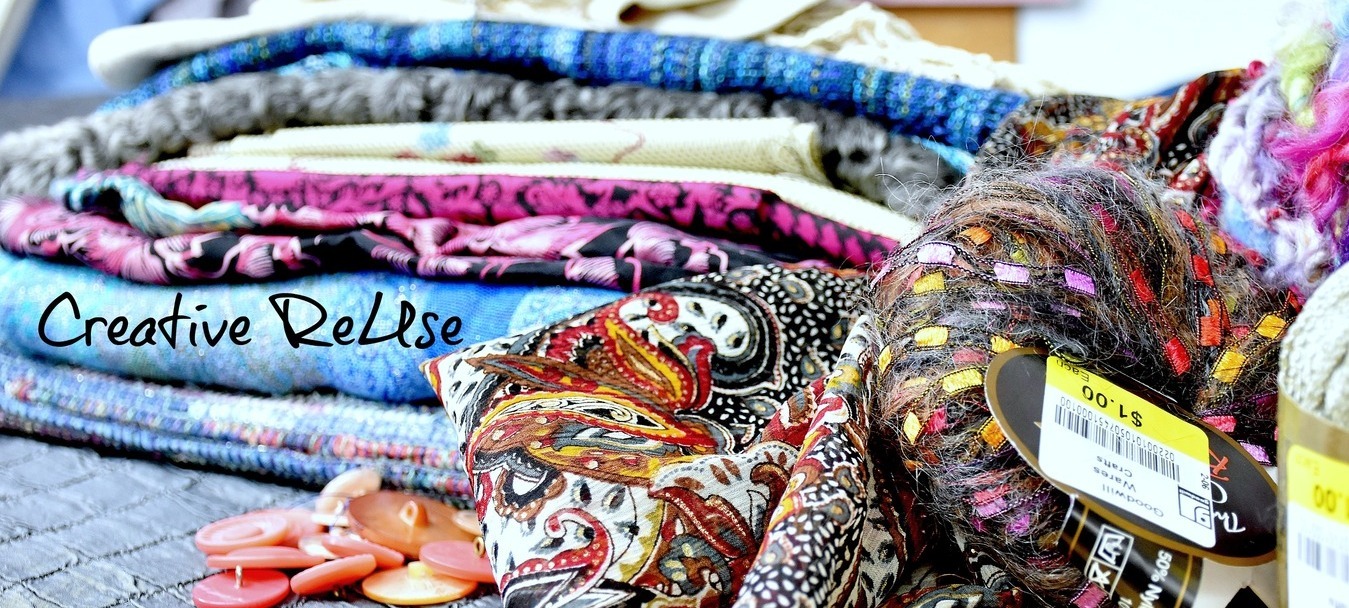 Taking up-cycling way UP. Taking materials no longer used, cutting into them and repurposing into artful garments. Especially those things lovingly made by hand and needles mostly made for home decor by family members who may not be here any more. To honour and respect the needle arts that has come down  to us and show it off just one more time
Karen brought me her beloved grandmother's lambswool fur coat and asked "Would I incorporate parts of it into a new cape coat?" I don't usually do custom any more but Karen is a treat of a human being and it was obvious she loved her grandmother. I had also never worked with fur (even though I have been at this over 25 years) but there is nothing like a first time. So it was the first time I had to keep the vacuum cleaner by my sewing machine! You cannot throw enough happy colours at Karen and she is a contemporary kinda girl. She said I nailed it. And her grandmother's name? Victoria of course!
Interwoven with felting artist Maureen Harding - A Tribute
It was the beginning of January and I was on the homestretch finishing a swing coat for my very pregnant  friend Gina - had to keep that baby warm in there. Went upstairs to have my lunch and read my emails and there it was - Maureen Harding had passed. Oh my word! It had been some years since her and I had worked together on collaborations when we were both a part of ArtWear Network. She would take the lead on each piece made with her hand dyed and felted cloth and then I let the work speak to me as to what it should be. I had been totally inspired by what she had done! She made it so easy for me. Not just because the cloth she handed to me was amazingly unique and beautiful but she herself put my mind at ease with what I could create with it. And I needed that freedom in my head to cut into it. She was gentle, quiet, understated and a master of her craft.
I contacted her husband Rod. His nickname for her was Mo and he told me he had been amazed at how many people had written him extolling her skills and her friendliness. She had trained as an RN in the 1960's and had always considered herself a working class girl from the industrial north of England. She got into spinning first after buying a small sheep farm in BC and then later felting. Although she took some workshops in it, she was mostly self taught. As a self taught artist myself, I knew what that meant - a lot of stuff in the garbage! In the year 2000 she started her business called DreamSpin Fibres suppling felting and spinning materials. She mentored others and helped them launch their artistic careers in felting. As with so many other great artists he told me she suffered greatly from self-doubt. In the end it was Idiopathic Pulmonary Fibrosis that took her.
So after reading that initial email, I went back into my studio to finish the coat and it hit me. The whole inspiration for the colours, design etc. had come from a felted scarf of Maureen's. It had been chosen because it was going to be perfect for my fiend Gina's colouring so I had cut into it and incorporated it in the coat. I teared up. The coat was being made to cover a new life coming and it felt like a blessing bestowed on it by another life that had left our earth.  I give each of my original coats it's own title so I called it "Maureen's blessing". She would have liked that. ~ Winter 2020
Interwoven Colaborations With Maureen Harding 2009